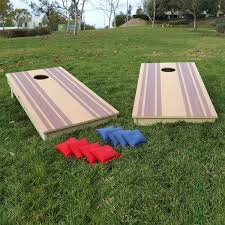 Corn Hole
Corn Hole is a classic backyard game that's perfect for outdoor events, parties, and tailgates. Our high-quality Corn Hole set includes two regulation-sized game boards and eight corn-filled bean bags.
Each board measures 24 inches by 48 inches, with a 6-inch hole in the center, and is made from durable materials to withstand all-day play. The boards feature a sturdy frame, collapsible legs for easy transport and storage, and a smooth surface for consistent bag tosses.
Whether you're hosting a family BBQ, a neighborhood gathering, or a tailgate party, Corn Hole is an easy-to-learn and fun-filled activity that everyone can enjoy. So, go ahead and add this game to your next event for hours of outdoor fun!