Giant Jenga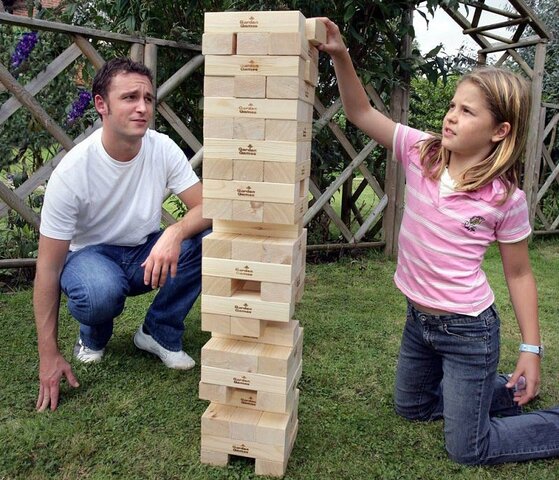 Description
We recomend that each event has at least one game and one food concession to accompany an inflatable. There will be a few kids who need a few minute break from bouncing.
Within minutes of the party starting, one of the kids will be organizing a Giant Jenga competition and at least 2 people will call dibs on playing the winner! This is played just as much by the adults as the kids.
Introducing our Giant Jenga game set! Starting at over 3 foot tall and quickly expanding to over 5 foot of wobbley crazyness, this classic block-stacking game has been scaled up to a whole new level of excitement. With 54 oversized wooden blocks, players can build towering structures over five feet tall. The rules are simple - pull a block out of the middle and put it on top of the tower without letting it fall!
Perfect for all types of events, from family gatherings to corporate team-building activities, giant Jenga is a fun and interactive game for players of all ages. The set includes a sturdy carrying case for easy transportation and storage. Whether you're a seasoned Jenga player or just looking for a new outdoor game to try, our giant Jenga set is sure to provide hours of fun and laughter.

This tower is stacked 3ft tall when the games starts and can quickly expand to over 5ft tall!