Toxic Laser Tag Experience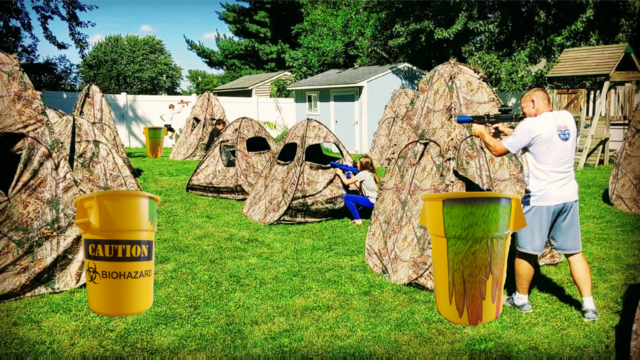 Description
Toxic laser tag is a blast for all ages!
8 Players can play at once. They can play as teams of 2 or 4 people or even everyone for themselves. Rounds are typically 3 minutes of complete chaos.
3..2..1...GO!!! The included oversized countdown timer clock times the round and gives a countdown to begin!
Players duck and weave among 10 different bunker objects to include Toxic drums and Camoflage bunkers.
Included is a book of rules for 5 of our favorite game variations to include capture the flag, Terminator, Executive Protection, and Unknown Assassin.
A 200' x 200' area to play in works very well, but smaller areas work fine also resulting in faster game play.
Complete with:
8 Laser tag guns
8 target vests
Cammo netting covered staging table
6 "Toxic waste" drums to hide behind
4 Bunker tents in woodland camo 7' tall to hide in and around
Team cones to mark off areas and to play various games like Capture the flag(Cone)
Player team vests
Oversized programable countdown timer clock
and more!